Row ZZ aside, we saw many memorable matches over the years, but the most indelible memory of all is of how the place made me feel; you notice it once you get off the 7: a distinct atmosphere created by the throngs of in-your-face New York fans, players dressed in all black like the Dark Knight himself, and the towering relics left behind from the '64 World's Fair—it's quintessential New York—and that's why I love it.
To commemorate the start of this year's Open, I compiled a list of my Top Five Most Memorable U.S Open Matches:
#5 Lleyton Hewitt d. Blake 2001 2nd Round (6-4, 3-6, 2-6, 6-3, 6-0)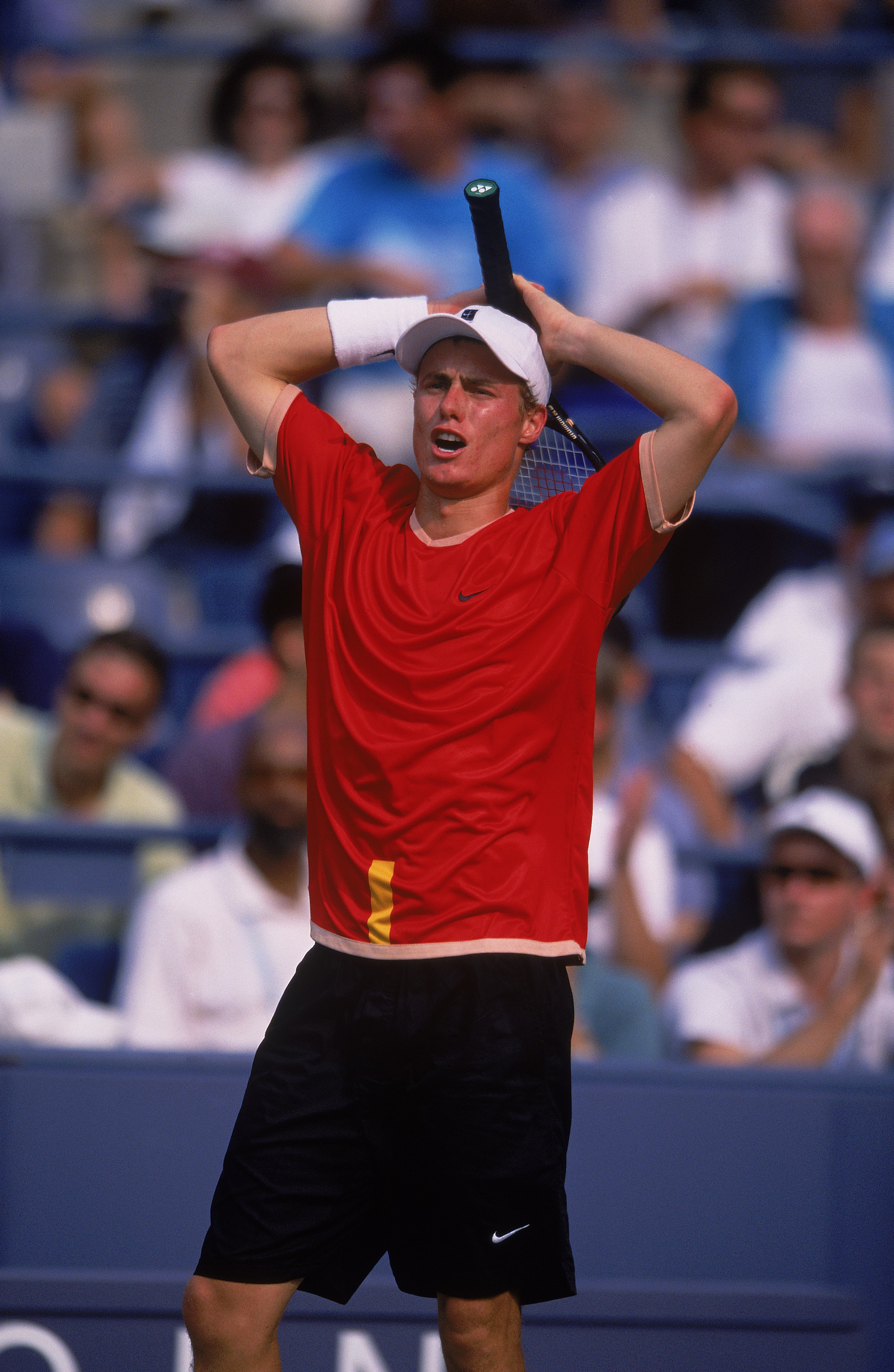 After slipping $20 to an usher, we snuck down into the lower section of Louis Armstrong. Behind the umpire's chair, we had prime views of the match and its ensuing controversy.
Lleyton Hewitt was seeded fourth, while James Blake—the most promising Harvard dropout since Bill Gates—was admitted via a wildcard.
At one all in the third set, Hewitt was foot-faulted by a black linesman, sparking a racially motivated tirade. Hewitt's racist venom would ignite an already raucous New York crowd, helping Blake surge to a two sets to one lead.
This was my first time seeing Blake play—his power and speed were astounding. His forehand sounded like a shotgun blast and he painted the lines with it. However, Blake was unaccustomed to best of five setters and started to fatigue towards the end of the fourth. In an attempt to encourage the fading American, a brash fan shouted, "C'mon James, you're not tired!" Blake wearily and plainly replied, "yes…I am."
Without much left in the tank, Blake succumbed to Hewitt 6-0 in the fifth. Hewitt may have won the match, but on that day he didn't win over any New York fans.
#4 Sampras d. Rusedski 2002 3rd Round (7-6, 4-6, 7-6, 3-6, 6-4)
In the early 2000s, Sampras was slowing fading into irrelevance; his decline both heavily covered by the media and recognized by his peers. In the third round of the Open, Sampras found himself up against one of his most vocal critics: Canadian turned Brit, Greg Rusedski. In his pre-match comments, Rusedski quipped, "A lot of the guys in the locker room feel they can beat him now. The invincibility isn't there."
Rusedski comments set the stage for a dramatic clash, but incessant summer rains kept holding the two heavyweights back. In between rain delays, we hunkered down at the now defunct ESPN Zone in Times Square, where massive TV's blasted Connors – Krickstein '91 in its entirety. Finally, after a day and a half of downpours, we returned to Flushing for some vintage early 2000s tennis.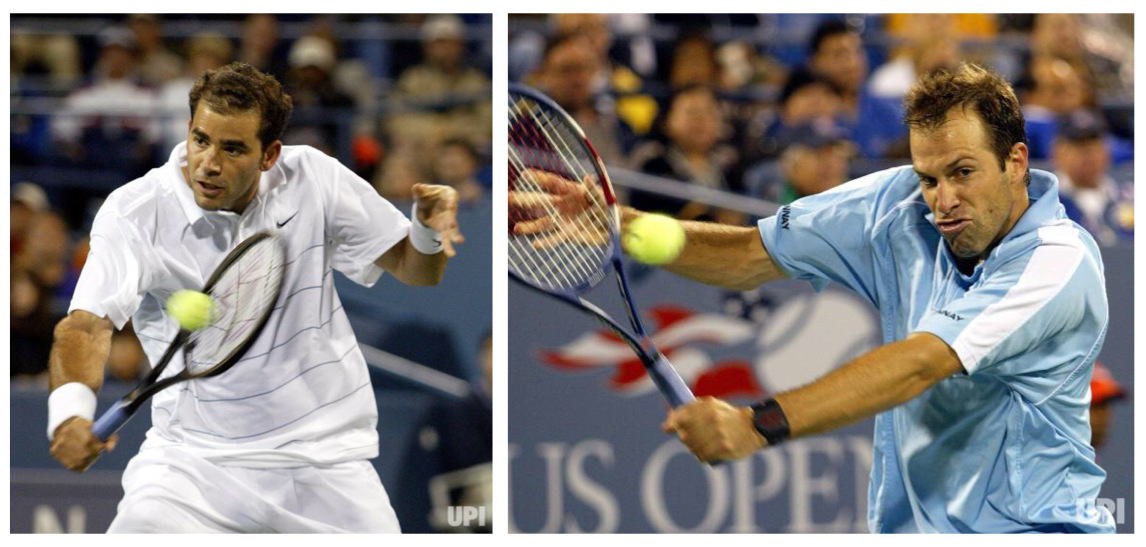 After a barrage of aces and serve-volley attempts, Rusedski and Sampras found themselves knotted at two sets a piece. In the fifth, they stayed on serve until the final game. With Rusedski serving, Sampras' slumbering forehand finally woke up; delivering three winners off that wing to break the big-serving lefty and win the match.
After the loss, Rusedski said, "I'd be surprised if he won his next match against Haas." Rusedski was mistaken yet again, as Sampras went on to win the whole damn thing—riding off into the sunset with 14 Grand Slams in hand.
#3 Sampras d. Corretja 1996 Quarterfinal (7-6, 5-7, 5-7, 6-4, 7-6)
In casual conversation, I typically refer to it as, "The Puke Match," but that moniker doesn't do it justice.
Sampras came in the defending champion, but with the death of his coach Tim Gullickson weighing heavily on him, he had underperformed on tour all year. Alex Corretja, the unseeded underdog, was the prototypical Spaniard: a grinding baseliner with a heavy topspin forehand and an elegant one-hander. That day, Corretja's secret weapon was his serve; equaling the prolific Sampras serve with 25 aces.
Tuning in at home, I was stunned after Corretja manufactured a two sets to one lead. Sampras fought back to win the fourth set 6-4, but started to grow weary during the early stages of the fifth. By the time they reached the fifth set tiebreaker, Sampras was completely debilitated; even vomiting at 1-1 in the tiebreaker. In John McEnroe's words—back when Mac was young and edgy—he was, "a hurtin' cowboy."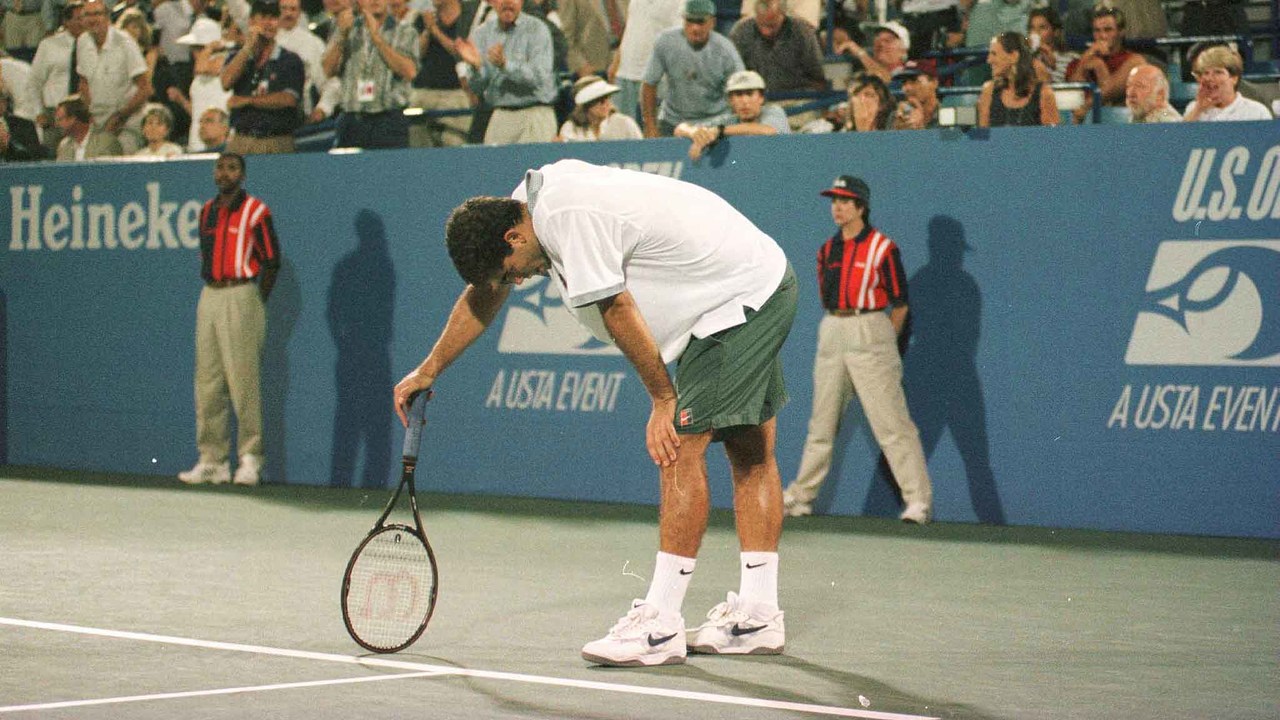 On multiple occasions in the tiebreak, Sampras used his racquet as a crutch to keep from collapsing. The tennis he played henceforth was downright heroic—whether it was his stretch forehand volley match point down or the second serve ace that immediately followed.
Corretja infamously punctuated the affair with a double fault. In victory, Sampras was too depleted to even raise his arms in celebration.
For Sampras, a champion who lacked flair, it became the match that humanized him. The guts that Sampras displayed—and literally deposited—on the court endeared him to fans all over the world.
#2 Agassi d. Baghdatis 2006 2nd Round (6-4, 6-4, 3-6, 5-7, 7-5)
2006 was both Andre Agassi's last year and Marcos Baghdatis' best year as a pro. Their second round meeting proved to be the penultimate match of Agassi's career.
The match happened the night of my grandfather Flanagan's funeral. Determined to give him a proper Irish sendoff, I bellied up to the bar at Katie O'Byrnes with my cousin, Scott. Even though we weren't there to watch tennis, I was happy to see the match being played on a small TV above.
Within the first couple of points, a fan bellowed, "Andre, this is your house! And it's all of us against him!" Baghdatis knew he was the bad guy and it showed in his performance. Battling father time and sciatica, the 36 year old Agassi graciously accepted the gift of Baghdatis's lackluster play, taking a two sets to love lead.
In the third, Baghdatis finally came alive, taking the set 6-3. Subsequently, Agassi raced to a 4-0 lead in the fourth and victory seemed assured for the old man. Remarkably, Baghdatis roared back against Agassi and the crowd; breaking Andre three times to steal the set, 7-5.
True tennis theatre transpired at 4-4 in the fifth: after sticking a volley at 40-30, the 21 year old Baghdatis collapsed from leg cramps. Between Baghdatis going for broke and Agassi unable to buy a first serve, the drama continued for eight deuces. Saving four tense break points, Agassi held to make it 4-5. A visit from the trainer helped Baghdatis recover—keeping it competitive until the very end. To the crowds' utter jubilation, Agassi clinched the classic final set, 7-5.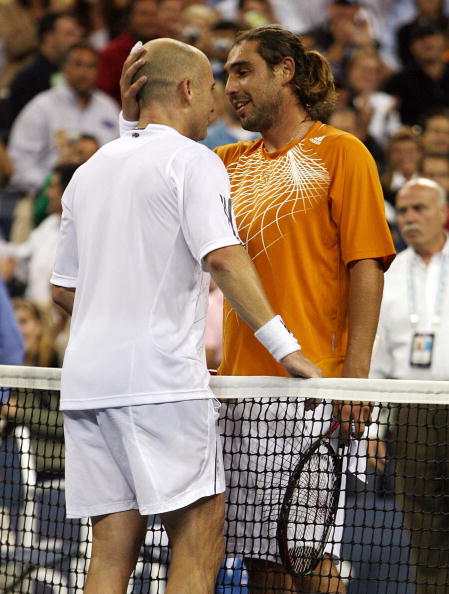 In the next round, Agassi would bow one last time and share these departing words with his fans: "The scoreboard said that I lost today. But what the scoreboard doesn't say is what it is I have found. I found loyalty…I found inspiration…and I've found generosity." Never was this feeling more mutual than when I watched him play that night.
#1 Sampras d. Agassi 2001 Quarterfinal (6-7, 7-6, 7-6, 7-6)
What makes a rivalry truly great can be defined in one word—contrast. Contrast is something that the Sampras-Agassi rivalry had in spades. Their game styles stood in stark contrast: the two-hander versus the one-hander, baseline versus net, the serve versus the return. Their physical appearance dramatically differed too: Pete's thick curly mop compared to Andre's shiny cue ball, Sampras' country club attire versus the modern style of Agassi, the ferocity of Andre's stare juxtaposed with the languid demeanor of Pete. All of these nuances contributed to the tension and suspense of their 34 encounters, but never was the tension more palpable than in their 2001 quarterfinal at the Open.
On that day, they played four tiebreak sets without a single break of serve. To say that Jimmy Van Alen would be proud is an understatement. Heading into the fourth set tiebreaker, the crowd recognized the magnitude of their feat with a lengthy standing ovation.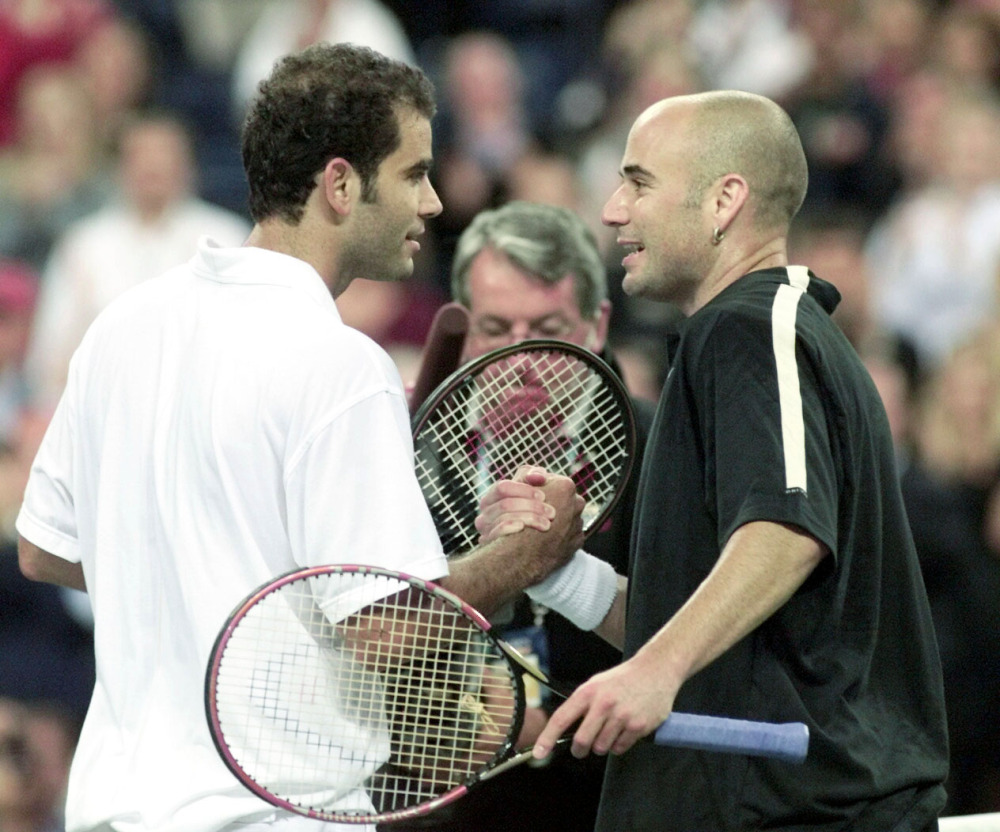 At 3-4 in the breaker, Agassi haphazardly moved forward after his serve. Sensing he was out of position, Sampras passed him down the line with ease. The following point, Agassi blistered a forehand to the corner, but blew an easy open court volley; Agassi's follies now gave Sampras three match points. Adding to the suspense, Sampras squandered both points on his serve; bringing the score to 5-6. With his trademark kick serve out wide to Pete's backhand, Andre received a short ball, but deposited his attacking forehand right in the net.
The ending was anticlimactic, but emblematic of their rivalry—upon retirement, Sampras would boast a career 6-3 record against Agassi in the Slams—never having lost once to Andre in New York.
A New Era at The Open
There was a five year stretch from 1997 – 2002, where I went to the Open every year. After heading south for college, I didn't return until 2014. Upon returning, I was blown away by the growth of the National Tennis Center, but it didn't feel the same—it felt impersonal. This feeling could be a byproduct of age dampening my excitement or life's experiences diminishing its novelty; or it could be because you can buy Krispy Kreme doughnuts at Walmart and your favorite player's apparel from Tennis Warehouse. The reality is, things change—even Wrigley has a jumbotron now—and it's now a new era at the U.S Open; Ashe and Armstrong have retractable roofs, the old Grandstand is gone, and there is no shortage of fresh-faced Americans trying to become the next Pete, Andre, Venus, or Serena.
Thanks for taking the time to read about my U.S Open memories. I'd love to hear about your favorite matches. Please share in the comments below!